With the Expresseur, experience the pleasure of playing music, without having to worry about the complex problem of notes.
Go directly to the world of musical interpretation, and share the pleasure of playing with other musicians, friends or family.
Hereafter some audio samples, from existing scores . There are not foreseen as a production for public. It is just an illustration of the possibilities opened by the Expresseur : an active way to benefit from music pleasure.
Small melody from G. Brassens, played with the Expresseur, with SF2 guitar ( for free on this site )
Instrumental around "These boots are made for walking" ( Lee Hazlewood ) with the Expresseur and Roland SD-50 sounds
Free interpretation using Expresseur of Video Games from Lana Del Rey, with Pianoteq vibraphone )
Free improvisation using Expresseur on Sugar, using Pianoteq steel-drums and Kore pads
Others examples
Symphatique ( Pink Martini ) sur Pianoteq super-bastringue
Les chemins de l'amour ( Poulenc ) sur Pianoteq vibraphone
Aurore ( Fauré ) sur Pianoteq vibraphone
Accessible
Needless to read the notes of music: just a desire to play, and musical feeling.The Expresseur allows you to more easily address the concepts of musical interpretation.
Self-sufficient
Initiation possible without other material that your computer, tapping on your computer keyboard. A realistic piano is integrated in the software.
Extensible
Create or import your own scores. Create and share your style accompaniment.
Connect all kind of musical devices, keyboards, virtual intruments, audio ... For the experts: MusicXML, equalizer, compressor, mixing, keyboard setting, Midi processor, Midi controller, Joystick, ASIO, VST, SF2 and more!
Education
A new concrete way to discover the world of music in schools. The Expresseur allows a pragmatic and fast learning of interpretations for collective music.
For adults
When a child learns music with his instrument or sing, it is nice for parents to accompany their child. With the Expresseur, an adult can learn to accompany, and can establish a musical dialogue with his child. Of course, it is necessary to teach adults, with an adequate education.
To accompany a choir or a music ensemble
Use Expresseur for musical high-quality support, which adapts to the work of repetition, and to the conditions of 'live' show.
The Expresseur allows accelerated teaching and implementation of quality interpretation, with the ability to play all scores, even complex, put forward tracks dynamically, and adapt to any adjustment of interpretation in 'live'.
Disability and music
The Expresseur can open the world of music to people with disabilities. The drastic simplification of the technique allows a direct connection to the musical performance. The expresseur accepts any type of input interface, and can adapt to any kind of disability, even an action with the eye ...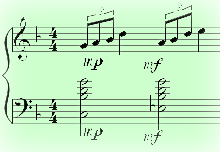 You can interpret any piano score written for singers and / or instrumentalists.
The score may come from:
- A key-in from a collection of partitions (variety, classical, ..)
- list of existing Expreseur files
- import musicXML, MIDI
No need to "read the notes", you need to feel music, following the rhythmic synthesis proposed in the partition of Expresseur.
You can also interpret several voices at the same time or independently, alone or together.
You can choose the graphic representation of the synthetic rhythm to play depending on the level of knowledge of music theory:

Graphical format.
The length of the line corresponds to its duration.

Musical format.
For those who have music knowledge.
If you want to "improvise" your accompaniment, it is possible to use the Translateur : you will always be "in tone."
With a little experience, you can easily accompany a singer or a musician from a simple grid of chords.
The Translateur follows your request for :
- Changing style in one piece (introduction, verse ...)
- Changing chord (directly or depending on the Partition)
- Execute a series of arpeggios or chords (sequences)
- Improvise a melody (translators)
Later, you can connect all kinds of devices to increase the quality of interpretation: Midi keyboard, electronic piano, touch pads, control surface.
For those who want to go further, Expresseur permits multiple extensions:
- build new ergonomic and cheap musical interfaces, using Arduino, or joystick technology
- Connect new electro-acoustic simplified instruments, based on guitar, violin, ...
- build new acoustic instruments (like saxo, accordion, ...) via an electro-mechanical interface
- Harmonizing voices or "classical" instruments
You can also integrate multiple sounds, thanks to the embedded SF2 synthesizer, the VST host , and Midi ports.
With the high quality synthesis of piano provided in the Expresseur from Realistic Piano, and the possibility to configure the keyboard and mouse, your computer becomes instantly your first instrument for initiation.
Use the "right pedal" on the PC (key "1" by default), or better, with a progressive pedal of digital piano.
You will discover the innovation of Expresseur about the management of harmonics. When you press the right pedal, you don't only get a simple holding of note, but you will create a sound more rich, thanks to a simulation of sympathetic resonance, as in a "real piano".
You can also use the "middle pedal" to make a partial sustain of current chord, like on grand piano.
You can use this high quality piano synthesis directly from a Midi piano keyboard , playing directly like on a traditional piano; or using the Expresseur wizards, to play easily a score or to improvise a accopaniment.
An harpsichord synthesys is also availabe in the Expresseur, which can be used like the piano synthesis : directly or through the Expresseur wizards.
You can also integrate multiple sounds, thanks to the embedded SF2 synthesizer, the VST host , and Midi ports.
Lot of tunings are available in the Expresseur, to improve your expression, according to your needs. Take time to make a tour, try them, to obtain your own tuning.
Even if the Just intonation has been considered as a fancy for polyphonic instruments, Expresseur offers now the possibility to define a dynamic micro-tuning of the scale ( Zarlino, ... ).
The micro-tuning follows musical modulation, according to a bass-line written in the score.
It becomes easy to play with a choir, respecting just intonation, even with lot of modulations.
Hereafter an example to listen the difference between a chord in just intonation, and in tempered tuning ( oscillation in the sound ), followed by a realisation in just intonation, using an organ ( Roland De Lassus / Sybilla persica )

More information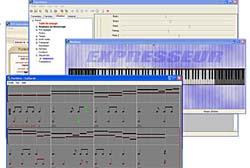 Import MusicXML : Create and import your own Scores from your favorite score editor, using the MusicXML format.
To improvise with the Translateur, there is a specific syntax to create "cellular scores" in your score editor (read help).
MusicXML format is compliant with lot of softwares
Import Midi : Import from Midi files is also possible, but with a lower quality than MusicXML : Midi files contains musical information already interpreted, which can generates unreadable and-or unplayable scores.
Midi standard : The software is of course compliant with Midi Standard. It accepts up to 5 Midi ports, input and output.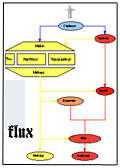 VSTi : Five VST instruments can be connected (PC only). With VSTi, you can add rich sounds. Lot of VSTi are available on Internet.
VSTe : One VST effect can be pluged on the audio output (PC only).
SF2 : Other instruments can be obtained with a sound font SF2. Lot of SF2 are available on Internet.
By default, the software uses the high quality SF2 realistic piano, and embends also an harpsichord. SF2 soundfont can be modified "on line" using the integrated sampler ( contribution of synthfont ).
audio file : using processors, Midi notes can easily trigger pre-recorded sounds.
audio re-pitcher : Six audio channels can be re-pitched, allowing to play with "live" sounds ( chords, ...)
audio record : audio performance can be directly recorded on disk, with wav format
midi record : midi performance (velocity and pedal) can be recorded, to simplify similar re-interpretation on powerless interfaces ( computer keyboard ...)
joystick : Two joysticks can be plugged, to build cheap interfaces. Joystick buttons can play notes, and axes can drive Midi Controlers.
processer : Any midi message can be modified on-line with the processors. Auto-learning is available to connect quickly notes or controlers to the main functions.
Compressors, equalizers and mixers are also available.
computer keyboard : all keys ( or combination of keys) on the computer keyboard can be linked to a Midi note or program.
mouse surface : through a surface, mouse can control two Midi controlers.
Asio : compliant with low latency audio inerfaces Asio (PC only)
Expresseur
You're not an expert in music ...
You dream of playing music ?
Expresseur is for you !

Follow @expresseur Tweet
Features
More